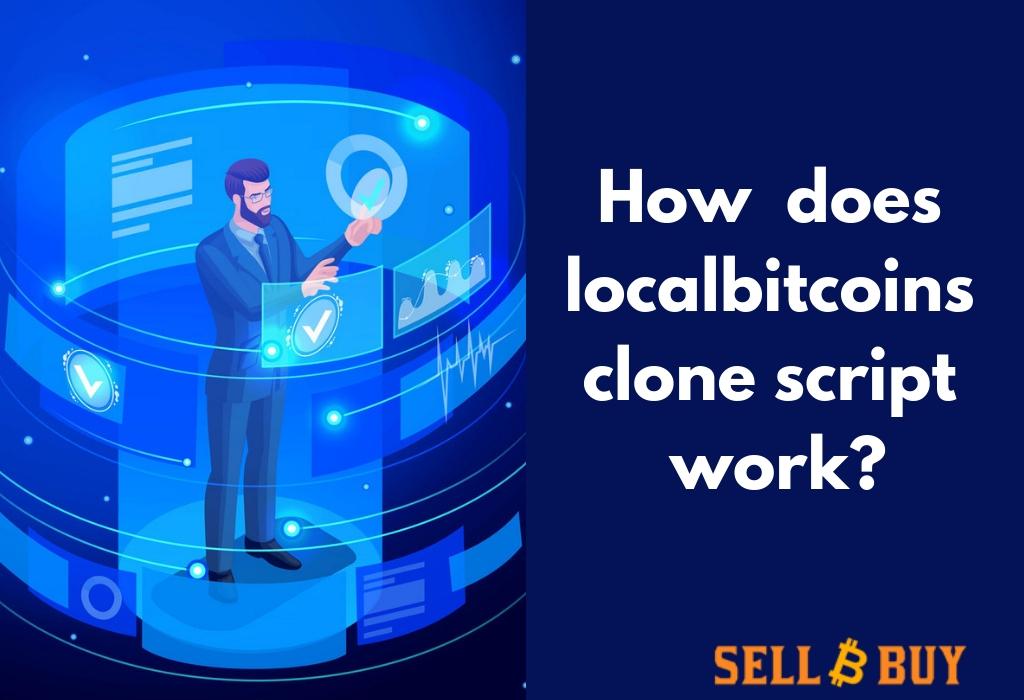 How does localbitcoins clone script work?
LocalBitcoins is a topmost bitcoin exchange platform in a marketplace that allows a trader to buy or sell bitcoins.
They offer a wide variety of payment options and escrow provides security for the buyer in this platform. The is a lot of advantage in this business model. You can also get this type of business model more advanced feature through reading this article.
What is LocalBitcoins clone script?
Our Localbitcoins clone script is building a new bitcoin exchange website with upgraded design and functionality inspired from an existing website like localbitcoins.
Sellbitbuy software company offers localbitcoins exchange clone script to help the crypto entrepreneur to start bitcoin exchange business. The script comes from necessary elements to start your business successfully like localbitcoins.
The localbitcoins trading clone comes with secure mobile apps ( IOS and Android). The Apps are outfitted with powerful Location detection and tagging abilities.
How localbitcoins website clone script works?
You can install localbitcoins crypto trading clone script within a short duration and start your bitcoin exchange business globally to reach the target audience. Just read our step by step how the localbitcoins script works in your platform.
Step 1: The trader wants to register on the platform and then fill their details on the profile.
Step 2: While they created an account, a wallet automatically has been created on the platform. The trader should maintain enough balance in their wallet.
Step 3: The is two option like Quick buy and Quick sell for traders. They are ready to buy bitcoin can select Quick buy option search through location, price, payment method.
Step 4: The trader can select the buyer/seller checking their reputation, trading history. Once the trader is satisfied with the buyer/seller you can select an option like buying or selling.
Step 5: If you are not satisfied with seller/buyer on the platform, just create an ad and post in this platform.
Step 6: While creating ad some rules are applicable for all trader they want to have enough balance in bitcoin wallet minimum 0.04btc and some payment method contains id verification, the price will never change once trader chat opened.
Step 7: Once a trader has posted an ad, a notification is sent to all the buyers/seller.
Step 8: The Seller bitcoin want to place through the escrow wallet.
Step 9: Interested seller/buyer can view the ads and get in touch with the trader to purchase the BTC either in online /offline.
Step 10: Once the trader receives the payment from the buyer, he /she can select button us "payment completed" and the Bitcoin is transferred to the user wallet through escrow.
Step 11: If the is a problem between traders they can click dispute resolution button. The escrow will arrive to make the possible decision.
The escrow will take 1% commission after the transaction whose ads exactly match for trade.
As we find new revenue channels, we keep adding it on to our script like banner ads from other company in your website. Because we believe that no business should run on one source of revenue.
Features of localbitcoins website clone software
We built the LocalBitcoins clone from scratch contain all the numerous features. We provide fascinating additional features that we believe even Localbitcoins website doesn't have this below features
KYC verification
The KYC verification process where a user would have to upload the document, verification phone number, photo, and email.
Trade matching engine
The Trade matching engine easily match your exact trader on the bitcoin exchange website.
Popup notification
The buyer and seller can receive an instant notification while in trading.
Analytical report
You can take a detailed report of your bitcoin exchange business performance.
We are providing some service to customized the localbitcoins clone software through white label solution and security features like two-factor authentication method.
Mobile: +91 8015204845
Email : [email protected]
Skype : support_60864

Talk To Our Experts
Contact Us