Cryptocurrency Exchange Script- To Start Your Own Cryptocurrency Exchange Website instantly.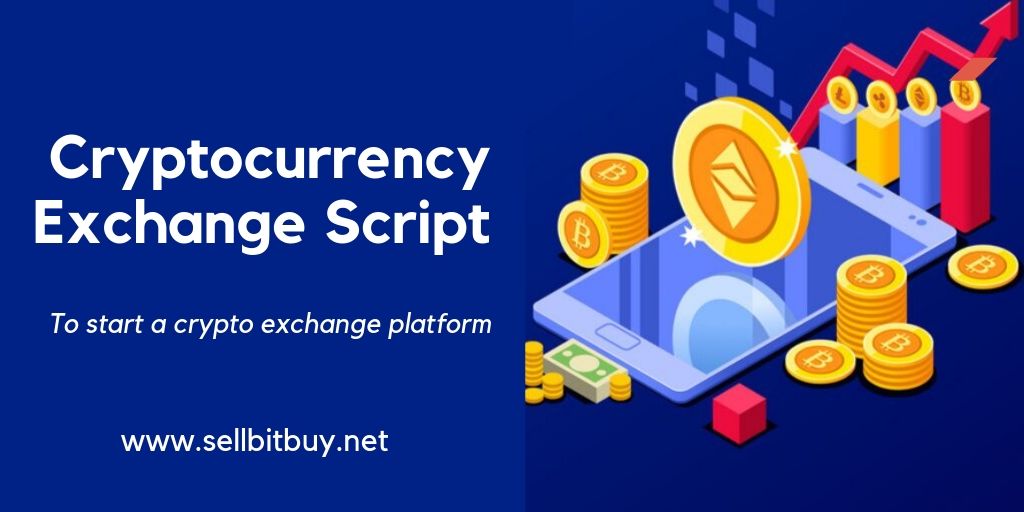 You can also start a cryptocurrency exchange website globally to attract more traders through a different type of cryptocurrency. Sellbitbuy provides you the most reliable cryptocurrency trading script which consists of all the necessary technical features to build a secured cryptocurrency exchange website.
In this article, we'll discuss deeply How to launch your cryptocurrency exchange trading platform.
What is the cryptocurrency exchange website?
A cryptocurrency exchange website is a revenue gaining business model that allows its users to trade all types of cryptocurrencies such as for fiat money to crypto or crypto to crypto.
Type of Cryptocurrency Exchange Order
Market Order: A market order means to buy or sell cryptocurrency at the current market price.
Limit Order: A limit order to buy a cryptocurrency at a lower price set under limit than a trader has decided to buy.
Stop Order: A stop order means to execute a trade at a specific price when the trader's terms and conditions agreed.
Fill Or Kill (FOK) Order: This type of order defines the lifetime order when the bitcoin price amount submitted will both execute immediately in 'fill' or get canceled.
Why modern generation people mind turn's to start a cryptocurrency exchange website?
The cryptocurrency grew more than our prediction and now the biggest revenue gainer is crypto entrepreneurs run more than crypto exchange website legally they gain $1 billion per annual year.
Did you not believe it? People use crypto to buying or selling, storing some products in daily life.
Now, you can understand the importance of cryptos and while they are till shine's give rich life to most of the businessman.
How to launch your cryptocurrency exchange platform?
You can start your own cryptocurrency exchange website through a lot of options to achieve your crypto entrepreneur dream.
1.Hire a dedicated a developer
2. Get the instant templates
3.Purchase cryptocurrency exchange script
You can Hire a dedicated team of developers to develop your own crypto exchange can list out the pitfalls while it's not suited for all entrepreneurs.
It cost too much money and your time.
You can give the idea of how your crypto exchange wants to appear and order to the respective person. If you miss anything in team output result will be fair.
If your project has finished in a short duration of time your budget of money will lose.
We are in the techy world everything is available on the internet you can buy the instant crypto website template. You can also know the spammer are everywhere they can provide you a just demo templated.
Instead of getting involved in this kind of risk while starting your valuable business take little more time to think of it.
Last but not least, you can Purchasing the cryptocurrency exchange script.
What is a Cryptocurrency exchange script?
A cryptocurrency exchange script is a set of programming codes like HTML, javascript, PHP and mean stack framework used to launch a cryptocurrency exchange website with hassle-free errors and security features.
What is a benefit in using a cryptocurrency exchange trading script?
The cryptocurrency exchange script will affordable to your budget.
You can set your own cryptocurrency exchange platform within a couple of days.
A cryptocurrency exchange scripts come through all types of technical functionalists and plugins.
If you need to alter any design or change the functionalities you can carry out our special software.
The trading interface is most important for the exchange it difficult to create but, it is the easiest way the all key elements (order creation, trading charts, trading pairs, ) should be stably arranged in our script.
Where you can get the cryptocurrency trading script?
You can buy a ready-made cryptocurrency exchange script from a sellbitbuy leading cryptocurrency development company.
Features in sellbitbuy cryptocurrency exchange software
Fast trade match engines

Multiple cryptocurrency wallet integrations

Mail ID encryption

KYC/AML integration

Automated Trading Bot

Crypto live price
Security Features of Our White-label Cryptocurrency Exchange Script
Server-Side Request Forgery (SSRF) Protection

Cross-Site Request Forgery (CSRF) Protection

Denial of Service (DDoS)

HTTP Authentication

SQL injection prevention

Domain name system security extension
And more…
Prominent Cryptocurrency Exchange App Development for Android and Ios
Creating a mobile application for the traders can help to catch the smartphone user. We at Sellbitbuy, have ample knowledge of developing a cryptocurrency exchange app to grasp your implied traders and generate high revenue.
Source: coinfunda.com
The following unique features are
Slick UI
Customer ratings and reviews
Multiple language support
Real-time market chart
Google authentication
Click here--->To buy our cryptocurrency exchange script
Mobile: +91 8015204845
Email id:[email protected]
Skype : support_60864

About Us
Sellbitbuy is the Top-Notch Bitcoin & Cryptocurrency Exchange Development Company having 5+ years of industry experience. We provide business ready Bitcoin exchange clone scripts like localbitcoins, Remitano, Paxful and much more which enable you to create your own P2P Exchange Trading Website instantly.
Follow us on
Copyright © 2020 Sellbitbuy | All Rights Reserved.