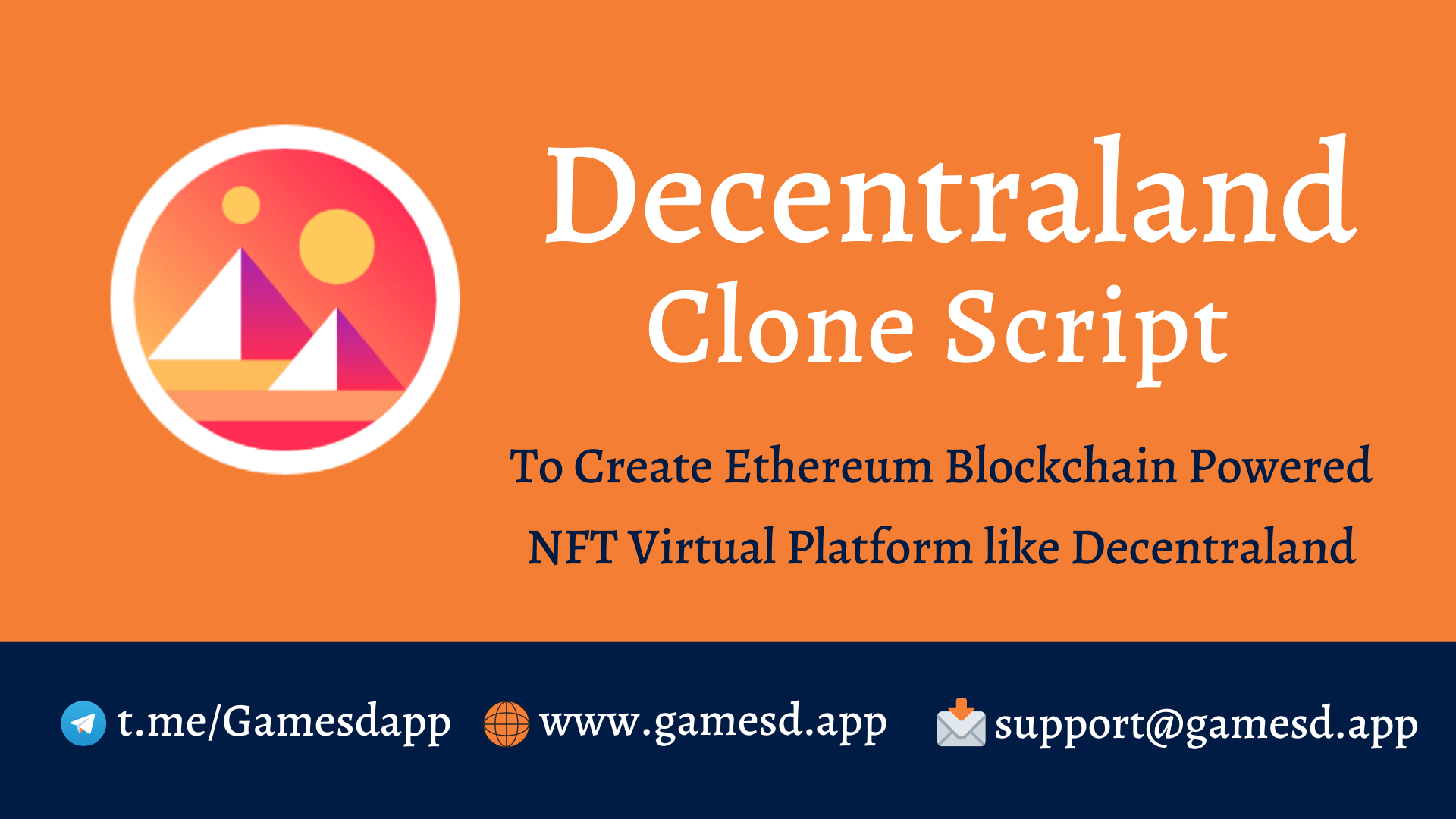 Decentraland Clone Script - To Start A NFT Marketplace Like Decentraland
Decentraland clone script
Decentraland Clone Script is an NFT marketplace script used to build a virtual reality platform like Decentraland on top of Ethereum blockchain. It is a decentraland website script that lets the NFT users to manage and trade an on-chain assets.
The source code - Decentraland clone script from Sellbitbuy lets you to create & launch a first-ever virtual world owned assets.
Large enterprises and new individual business enthusiasts can now join the trend by building their own NFT marketplace like Decentraland. A great vision of future lies in NFT as it witnessed to earn sharp profits in the upcoming years.
Sellbitbuy - Pioneer NFT Marketplace development company can offer you solutions by building a NFT marketplace like Decentraland by delivering a tailor made features & functionalities for it. Our team of developers supports you to ample profits by yielding a massive revenue from your NFT business.

Decentraland Clone Development
In Decentraland Clone Development process a website script is coded and delivered to clients who wish to create their own NFT marketplace like Decentraland. With the support of NFT marketplace developers you can start building your own business empire to amplify your business growth.
In our team "Sellbitbuy", we have a experienced & skilled developers, who have the know to build a large digital collectible platform to represent digital and physical arts.
Decentraland - Explained In Detail
Here is a collective data of about Decentraland NFT marketplace trading volume and current stats. You can have a glance at it, if you like to know about Decentraland nft at depth.
DATE : 26/07/2021
Decentraland Price (MANA) - $0.7242
Market Cap - $1,224,445,741
Fully Diluted Market Cap - $1,582,623,925
24/7 Trade Volume - $224,281,334
Total supply - $2,194,154,927
Image Source: CoinMarketCap

What is Decentraland NFT Marketplace?
Decentraland is a virtual reality platform founded in the year 2017 & it is launched on top of Ethereum blockchain. Users in this platform, can easily create and experience a blockchain powered virtual gaming experience. In this decentraland virtual world any users can buy land and it is referred with a term called "parcel" and virtual properties called non-fungible digital asset.

What is Decentraland Token? - MANA
As every NFT marketplace has a official token Decentraland NFT also a utility token called "MANA". It will be used to pay for digital collectibles, paying for lands, etc,..As this digital token "MANA", is developed by the developers they get an incentive while a token is exchanged. The earned token can be used to pay for land, digital items and more.
Source: Decrypt

FAQ - Decentraland Clone Script
What is MANA?
It is a decentraland fungible, ERC20 cryptocurrency token mainly used for exchanging LAND parcels.
What is LAND?
LAND token is also a non-fungible asset that is maintained and stored on top of Ethereum smart contract. This token is breakable and it is divided into parcels in the form of x,y cartesian coordinates.
Who validates transactions?
Transactions on the Ethereum blockchain are verified and automatically executed with the help of smart contracts.
Source: Decentraland

Why Choose Sellbitbuy for Decentraland NFT Marketplace Development?
Sellbitbuy - NFT Marketplace Development Company, is happy to offer a endless support to the NFT business freaks who wish to set a strong mark in the NFT field. We have a group of professionals who are expertise in creating a NFT marketplace like Decentraland. Our advanced Decentraland clone script will help you to instantly launch a NFT marketplace like Decentraland.
Consult our crew!
For more details!
Disclaimer: Sellbitbuy never promotes any third party products or services, and we are not having any control over the brand "Decentraland". We use the term "Decentraland" for easy understanding, and we don't have any tie ups with the mentioned brand. Our solutions are complete white label solutions, based on the requirements it can be customized or altered.