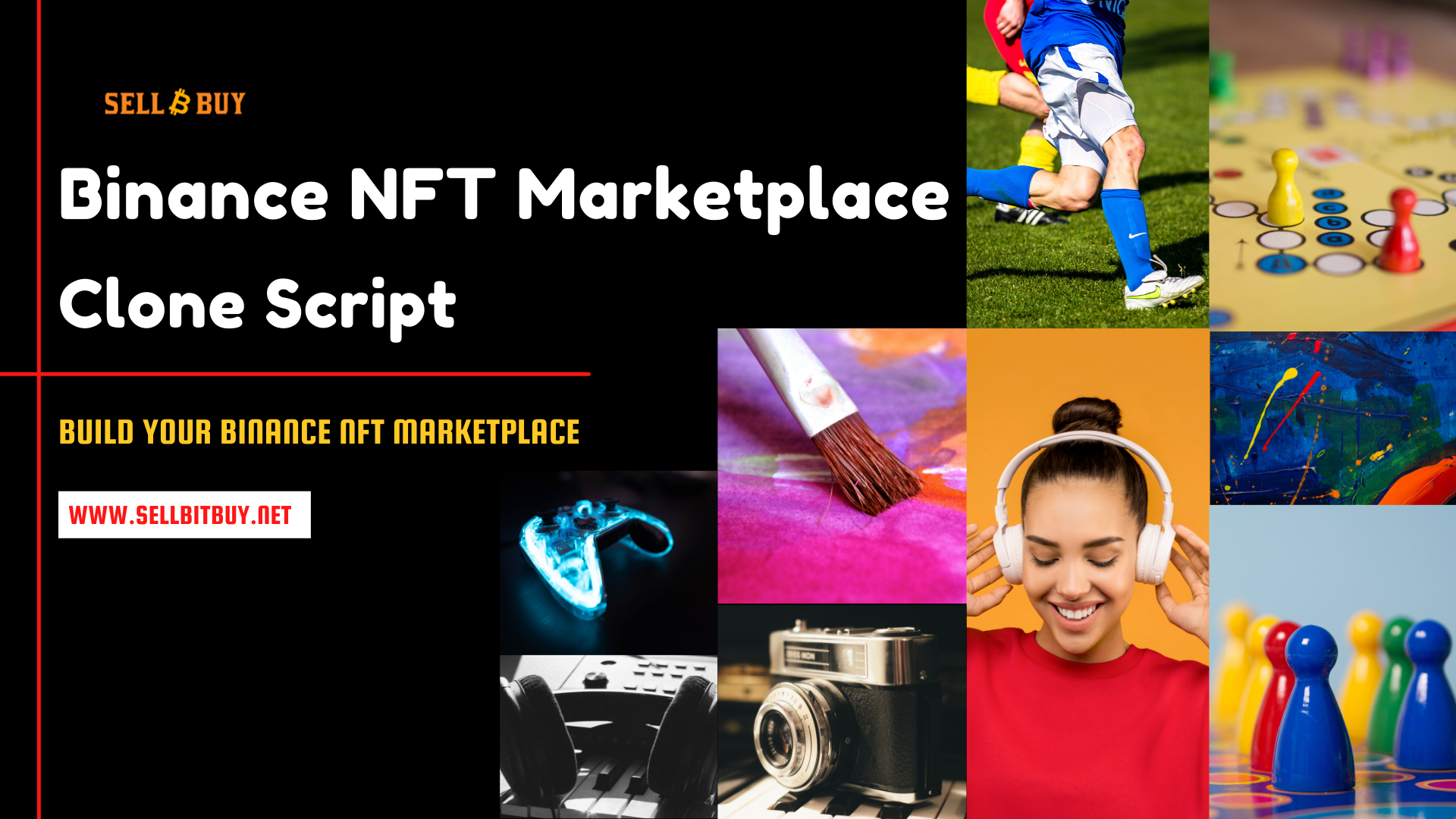 Binance NFT Clone Script - To Launch A P2P NFT Marketplace Like Binance NFT
Binance NFT Marketplace Clone Script
Binance NFT Marketplace Clone Script is a complete package that contains 100% source code to build an NFT Marketplace exactly like the Binance NFT. Using our Binance NFT Marketplace Clone Script an instant launch of Binance NFT Marketplace is possible. When Binance NFT Marketplace Clone Script is deployed it allows non-fungible token exchanges like real-time digital goods under the BSC blockchain.

Bidding, buying & selling of digital crypto goods happens safely as our Binance NFT Marketplace Clone Script promises to offer end-to-end features with top security. We Sellbitbuy can offer you a readymade & tailor-made Binance NFT Marketplace Clone Script for you to start a replica of NFT Marketplace like Binance.

Features Of Binance NFT Marketplace Clone Script
Mystery Box
Mystery box is like a lottery box in the Binance NFT marketplace. A fixed price can be chosen with the help of this feature in your NFT marketplace like Binance.

Rewards section
It is for royal NFT participants, if they have unique & rare NFT goods, then they will be appreciated with a reward.

NFT wallet support
NFT wallet supporting feature lets you to store your digital collectibles and other Non-fungible tokens in a secured place called "Wallet".

Payment Gateway
Supports payments via various modes like credit card/debit card or bank transfers.

Rating System
Start ratings improve the trust in the NFT seller. It can improve your overall sale percentage.

Token Listings
Listing of NFT's helps to identify your NFT's easily among the large crowd of audience.

Binance NFT Marketplace Clone Development
In Binance NFT Marketplace Clone Development a professional developers takes the challenge of programming NFT Marketplace like Binance. It is a complex process where each of every phase of development is paid with keen attention. In nutshell, the purpose of developing this Binance NFT Marketplace Clone is to create a new NFT Binance marketplace that is inspired by the existing one.

The development phase of it ensures whether end-to-end features are properly replicated and developed in a better way. The functionality of Binance NFT Marketplace is inherited with our developer's code & even looks forward to offer a better visual display(UI/UX).

We make your work simple and cool, as it edge-cuts maximum development time & costs. It is safe, secured, fast, reliable, & so on.

Customized Binance NFT Marketplace Clone
Our Customized Binance NFT Marketplace Clone Script offers splendid customizations in our Binance NFT Marketplace Clone. It offers white-label solutions that welcome the requirements from your side. Your Ideas make our Binance NFT Marketplace Clone Script customizable & flexible to modifications.

You can consult with our experts and share your thoughts, that you wish to include. Our crew is obliged to add it to our tailor-made Binance NFT Marketplace Clone Script.

Advantages of Launching NFT Marketplace like Binance
Attracts millions of people from nook and corner of the world.
Offers quick solutions to exchange digital goods.
A great revenue stream that offers income beyond the level of expectation.
Ownership is offered for digital content creators.
Offers high margin profits.
Unlimited income potential.
Functions 24/7.
Emerging business opportunities
Interoperability
Supports business firms like sports, music, real estate, games & more.

How To Start NFT Marketplace like Binance?
This step-by-step guide will help you to figure out, the reasons to start the Binance NFT marketplace and how to launch it.

NFT's are ruling today's world and for sure it continues in the future as well.
Binance NFT marketplace functions on top of the Binance Smart Chain network, to create a P2P NFT ecosystem.
NFT is s huge business firm that takes complete dominance in fields like art, games, sports, music, e-commerce and so on.
As the business future lies behind these NFT marketplace concepts, a huge crowd had already started building their own NFT Marketplace like Binance.
One who wishes to launch a Binance NFT marketplace, has a simple solution for getting started.
Consult NFT Marketplace Development Company, for enriching with the latest NFT marketplace development solutions.
You can approach our developers, as we offer high-end Binance NFT Marketplace development solutions.
We assist you by 24/7 and support you in building a replica of the existing Binance NFT Marketplace.
Features of our Binance Marketplace Clone Script, improvises the functionality of Binance NFT Marketplace when it is deployed.
Create a Next-Gen decentralized world by instantly getting started with it.

What is Binance NFT Marketplace?
Binance NFT Marketplace is an exclusive NFT platform built for the purpose of exchanging non-fungible tokens say crypto goods in a P2P decentralized network. In this Binance NFT Marketplace bidding, buying, and selling of digital collections is exchanged in a massive number. The underlying working functionality behind this NFT marketplace is to provide transfers between both Binance Smart Chain and Ethereum blockchains.

Minting of NFT In Binance NFT Marketplace
Initially, you have to select the "Choose" option that appears on the top of Binance NFT Marketplace's homepage.
Next, you can upload your file like audio, video, or anything, by providing the details about it.
Ensure you have a sufficient BNB coin before you proceed.
Now click on the minting option.

Buying of NFT In Binance NFT Marketplace
Choose your preferred NFT before you get started.
On clicking its name you will find its details(description).
Go through its price and ensure whether you have chosen auction sale or not.
If the auction type of sale is chosen then proceed with bidding.
The highest bid usually wins an auction sale.
If you wish to bid then choose "Place a bid".
The input of bidding can be given in the popup box, remember to give a higher bid price than the previous one.
Choose "buy now" if you buy a fixed-price item.

Selling of NFT In Binance NFT Marketplace
If you are new to the Binance NFT marketplace, then you cannot use this option initially.
Two options are there for proceeding with selling an NFT. Auction sale & the fixed sale.
Go to your digital collectibles then choose the one which you like to list.
If auction sale is your choice then choose "Highest Bid".
In the "Minimum bid" column enter the starting price.
If you choose fixed sale then select "Set price".
At last, at the "Price" column, choose at how much you wish to sell.
Fix the duration of your sale (Starting date and closing date of the auction).
Choose the category carefully,
Finally, you can "Submit".

Source: Binance

How Binance NFT Marketplace Works?
Few steps must be followed for getting started with Binance NFT Marketplace,

SignUp to your Binance account
BNB account is initially required before getting started. Once you signup you can get started.

Finish your identity verification process
KYC is a general process to verify your identity in any exchange. It protects your account from third-party threats and prevents you from money laundering, corruption & more. It is mandatory as it keeps your account secure.

Buy/deposit crypto
Purchasing of cryptos can be either done via credit card/debit card or can be done via fiat fund transfer to spot wallet.

Transfer Cryptos To Spot Wallet
Funds transfers can be directly done by moving it from the bank to the exchange.

Start Trading On Binance NFT Marketplace
After completing the above process, you can start trading in Binance NFT Marketplace. If you have BNB, BUSD, or ETH in your spot wallet then you can get started!

Source: Binance

Components In Our Binance NFT Clone
Reference ID
Token ID
Creator ID
Lister ID
Buyer ID
Purchaser ID
Bidding Information
Timeline
Wallet address
NFT file size(Pixels)

Frequent Asked Questions - Binance NFT Marketplace
Let's talk about the common FAQ's asked about Binance NFT Marketplace.

1. How do I get an NFT account?
A general Binance account is enough for getting started with Binance NFT Marketplace.

2. Which cryptocurrencies can I use to buy or trade NFTs on the Binance NFT Marketplace?
It supports BNB, BUSD, and ETH.

3. Does Binance NFT Marketplace allow users to deposit and withdraw NFTs?
At present withdrawal and deposit of NFT's is not supportable. But it is coming soon.

4. Can I mint NFTs on Binance NFT Marketplace?
Now, the minting feature is only available to select Binance artists and partners. But in the future, Binance has planned to allow minting by the creators of NFT's itself.

5. Do I need complete identity verification before I trade NFTs?
For trading in NFT, you need not have to completely finish the identity verification process. Just open your Binance account for buying and selling your NFT's.

Source: Binance

Why Sellbitbuy for Binance NFT Marketplace Clone Development?
Sellbitbuy - Popular NFT Development Company is happy to offer solutions by developing an advanced Binance NFT Marketplace Clone to meet the industrial goals & demands. NFT's are becoming popular nowadays, and now it paves a way for the business firms growth's. One who likes to launch an NFT Marketplace just like Binance NFT can approach our team at any time.

A complete end-to-end support is offered by our experts and we promise you to deliver our Binance NFT Marketplace Clone Script, within your expected duration. Enquire more about us by connecting with us via social medias/ call.

Improve Your Tomorrow's!
By Starting It Instantly!


Launch NFT MarketPlace Like Binance NFT?
Feel Free To Consult With Our Experts!
Disclaimer: Sellbitbuy never promotes any third party products or services, and we are not having any control over the brand "Binance". We use the term "Binance" for easy understanding, and we don't have any tie ups with the mentioned brand. Our solutions are complete white label solutions, based on the requirements it can be customized or altered.
Talk To Our Experts
Contact Us